Winux web solution's Offshore Flash development team can make your static site interesting to the visitor by making it graphic rich. This generation of web sites may have interactive and informative Flash, that can inform your business goals in a few lines of text, which can attract the visitors attention by making your content into Flash with pictures and animations.
Flash and SEO Friendly Content:
Our offshore Flash team is experienced enough to keep the limitations in Flash in mind, like loading time, Plug in installations and Search engine indexing. There are techniques to develop Flash in such a way that it would not be a hindrance to the site in any way.
Database driven Flash design: (Web Application development with Flash)
Our expert Flash team can also develop dynamic, Database driven web sites and we applications with Flash. They often work with software development technologies including ASP, PHP, Java and .NET.
Our offshore flash Development Service include database solutions with Mysql, MS Access, PostgresSQL and MS SQL.
We do the following as one of our Core Flash graphic services:
1. Flash Intros and Flash video enabled websites
2. Flash animated Logos
3. Flash Banners and Advertisements
4. Complete Flash Sites with Flash navigation, animation etc.
5. semi- Flash sites
6. DB driven Flash applications with Action scripts (Survey, Form, Poll, Quiz etc.)
7. Flash CD presentations - Corporate Profiles, Business Cards
8. Flash CBTs
Tools we use:
1. Macromedia Flash MX 2004 ®
2. Macromedia Director ®
3. Adobe After Effects ®, and
4. Adobe Premiere ®
The following statistics gives the compelling reason to go for a web site developed with Flash is to get more visibility on the Web.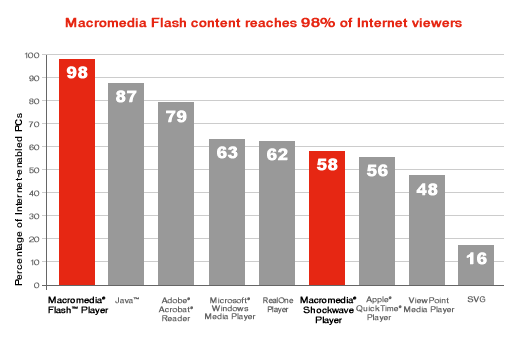 For further information please contact us to request for proposal See the List of contacts or use this form below to reach us for a Quick quote.